Acquired June of 2007.
Traded for a car that would fit my growing kids :( September 2009
Trip to the smokies May 08 Smoky mountains, the dragon, cherhola skyway, going nuclear
Alamo Run 2006
May 2006 - I take 2 weeks vacation with the intent of going to the WOTI Alamo Run. I did not take the direct route. Trying to get around thunderstorms going there I went south through mississippi picking up I10 to San Antonio. On my way home I went west to El Paso north through the Gila National Forest, the VLA, Soccorro, Albuqurque, Santa Fe, Chama into Colorado. I wake up in Calhan, CO with 1/4 inch of snow plastered to the right side of my bike. Total miles round trip 3860 miles over 8 days. Only 6 of those days were actual travel day. To see some of my pictures.
Alamo Run 2006 trip 3860 miles
1985 GL1200 Limited
Acquired fall of 2004 after getting tired of every other week having to do something on the 77. On an abnormally warm Jan 12, 2005 I hit a deer with it. Fortunately kept it up even though I was going about 50mph at the time. Damage was broken front fender, lower right cowl and smashed right great toe. Deer jammed my foot to the brake pedal. I sold this May 2007, to help fund a new motorcycle - something that I havent done in 23 years.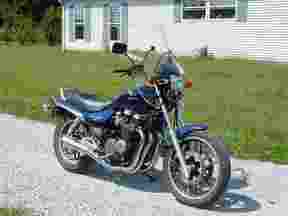 1985 CB650SC
Acquired summer 2005. A really smooth running bike. My father in law bought it after an accident that totalled it. Original owner went into a ditch and flipped it on end. My father-in-law got it looking pretty and added it to his "museum" where it sat for 18 years. Unlike the other bikes he has given me, this one sat without gas in it. So there was no gum fights. Original miles on it when he acquired it was 800 on the clock but whoever wrote the title up listed it as 3000. So that is what the new odo was set to. The original speedometer was crushed in the accident. As of this time I am still getting some of the bugs out of it. Clutch hydraulics need rebuilt as one end or the other leaks pressure off after sitting with the lever pulled in after about 30 to 45 seconds. Other than a few scuffs on a couple of parts it looks like it came off the showroom floor.


1977 GL1000
The '77 has been in the family since new. My father-in-law gave it to me last summer after it had sat for 16 years. He had quit riding it, but kept it in an environmentally controlled building. Still took a lot of work to get it going since fuel had been left in it. Finally sold it early May 2005. Watching it leave the driveway after putting 6000 miles on it and never having heard the engine other than while atop it left me with just a little remorse.

Between 1978 and the 1977 GL1000 there were two mid sized bikes that i spent a lot of time on. In 1981 I purchashed a new Yamaha 250 exciter with the trunk. Using it for my commuter vehicle for 2 years in college riding on snow and ice I managed to put 20k miles on it in those two years. Including a 1200 mile round trip to St Paul, MN and a 600 mile round trip to Oshkosh, WI. In 1983 i bought an unsold 1981 CM400T which i kept for the longest of any of my motorcycles only put 33k on it in a little over 15 years.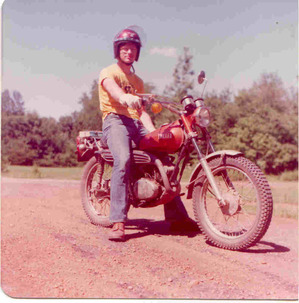 Circa 1978
17 years old at the time. Motorcycle is a 1971 Yamaha AT125, I think, its been 25+ years okay.